Highlights
Cubase 10.5 follows up the highly anticipated landmark release with many significant improvements, additional inspiring tools and major workflow refinements. Whether you are looking for creative inspiration or new ways to speed up your professional workflow, the new features in Cubase 10.5 specifically cater to your needs.
Spectral Comparison EQ
Cleaning up frequencies to create room for each instrument is the key to a good mix. The new Spectral Comparison mode in the Channel EQ helps you to identify where action is needed. Just route a second signal from any track into the EQ and compare the spectral curves within the EQ display. Toggle between the EQ controls of the source and comparison channel and adjust the mix without losing focus on what you're doing.
Pro • Artist • Elements
Video Export Render
Scoring to picture is one of the many strengths of Cubase. You can now export videos (including audio) for your clients and collaborators directly from within the DAW. The new video export feature lets you render videos as MP4 with H.264 video compression and 16-bit stereo audio in 44.1 kHz and 48 kHz. Export the whole video or just footage within the locator range, adding the timecode to the video export for the next production process.
Pro • Artist • Elements
MultiTap Delay
Providing the rhythm for your echo, the new MultiTap Delay is made for musicians, with all the inspirational creative options that you need. Up to eight taps per delay loop can conveniently be created and edited. You can add effects with a simple click to the complete output, just the delay loops or even each individual tap, while different character presets deliver the sound of clean digital delays or classic vintage echo units.
Pro • Artist • Elements
Padshop 2
Steinberg's highly acclaimed granular synthesizer Padshop 2 comes with great improvements and even more creative tools. At its heart, the new spectral oscillator opens the door to unheard soundscapes and lets you turn your own samples into fascinating sonic sculptures. Add motion to your sounds with the new arpeggiator section and use the effects section to add the finishing shine. You can be inspired by the 100 new presets or start creating your own unique sounds right away.
Pro • Artist • Elements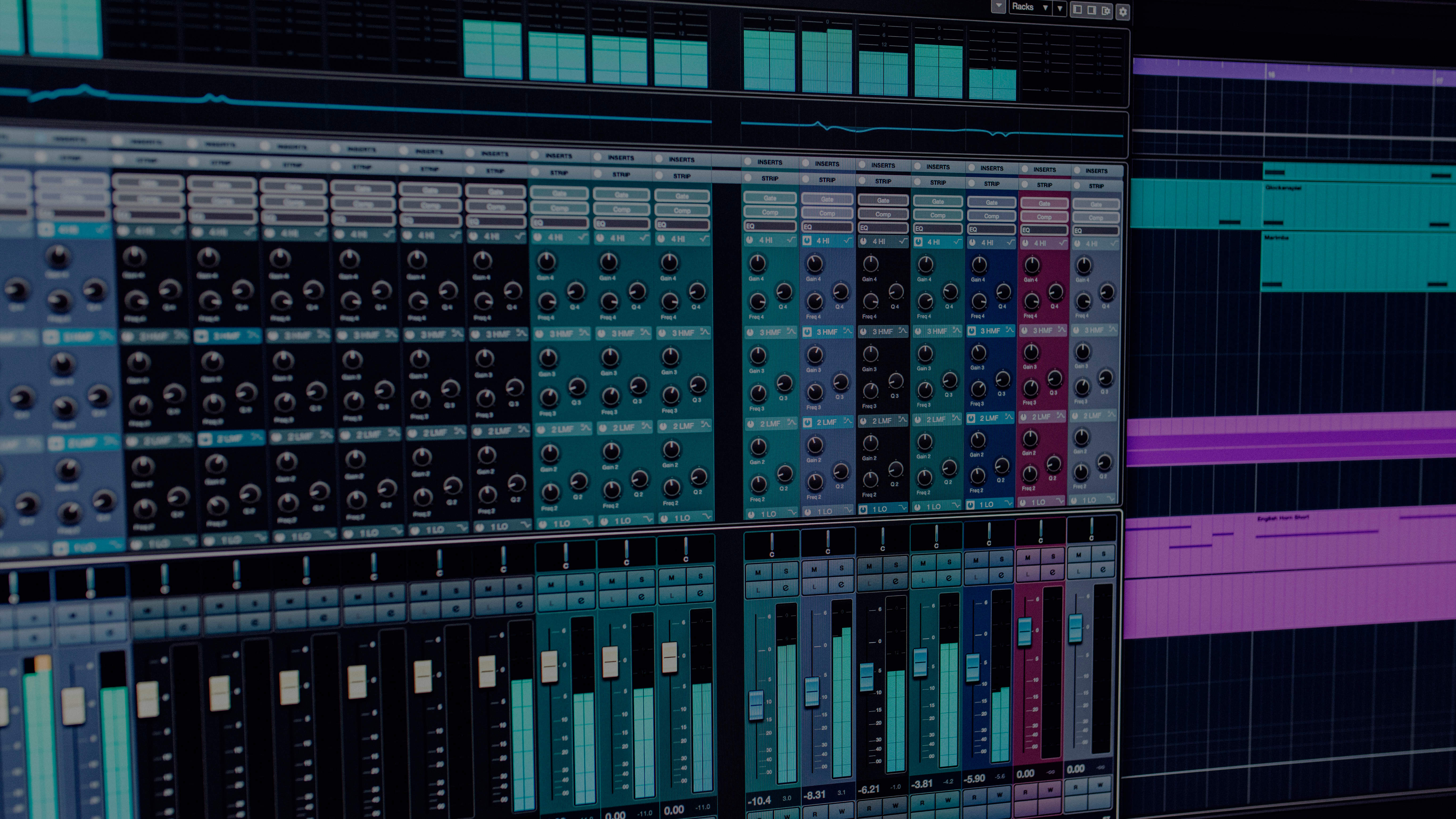 Colorized Mixer Channels
Maintaining a clear overview while your project is growing is essential for a fast and easy workflow. With the new option to colorize complete channels in the MixConsole with track colors, you will be able to focus on the mix by intuitively finding the channels you are looking for. Even if you are sitting several meters away from the screen, there is no longer a danger of getting lost in your mix!
Pro • Artist • Elements
Import Tracks From Projects
Exchanging data between projects or creating new project templates is now vastly easier with the new track import functionality. Import multiple track types from other projects (like Group, FX or Folder Tracks) and select the track attributes you want to import. Setting up the same drum mix for multiple projects? Cubase has you covered. With a simple click, the Auto Map function even matches the imported tracks to existing tracks with the same name.
Pro • Artist • Elements
Retrospective MIDI Record
Do you always deliver your best performances when not recording? The completely revised MIDI Retrospective Recording feature can help you to bring your A game to every project. Cubase tracks your MIDI input — even when you are not recording — and brings back your chords and melodies as a stacked cycle or a continuous performance with just a click. Even better, your performance is captured on multiple tracks. So no more worries — Cubase has your back.
Pro • Artist • Elements
Combined Select Tools
The new Combined Select Tools mode speeds up your editing workflow by combining the two most frequently used tools in one powerful feature. Activate the new tool mode and the selection tools for both objects and ranges can be used at the same time, without the need to change tools. If you are a professional and time is critical, Combined Select Tools mode will be your new best friend!
Pro • Artist • Elements
Spectral Comparison EQ
Clean up your mix more accurately.
Video Export Render
Render videos as MP4 (H.264) with 16-bit stereo audio.
MultiTap Delay
Made for musicians with a range of inspiring creative options.
Padshop 2
Even more creative tools and sonic inspiration.
Colorized Mixer Channels
Instantly find the channels you are looking for.
Import Tracks From Project
Exchange data between projects, or create new project templates, more easily.
Combine Select Tools
Work faster with objects and ranges using one powerful tool.
Retrospective MIDI Record
Capture your MIDI input, even when you have not started recording.
The Score Editor
Powerful new features and improvements.
The Macro creation
Create Macros faster with new improved functionality.
LUFS Normalize
Choose to normalize by either dB Loudness Unit (EBU R128) or by setting dBFS Max.
Safe Start Mode
Initiate Cubase without any third-party plug-ins loaded.
Stereo Delay, De Esser and Roomworks
New plug-ins for Cubase Elements.
Workflow improvements
Many more significant workflow improvements are also included.
Cubase Pro 10.5
Cubase Artist 10.5
Cubase Elements 10.5
Cubase 10.5 Release Notes
Check out the release notes for the latest Cubase 10.5 maintenance updates.
Release Notes
Download a Cubase Pro 10.5 Demo Project
Do you own a full or trial version of Cubase Pro 10.5? Then download an exciting demo project here to quickly try out all the new features.
Download here
Grace Period Update
Customers who have activated an earlier Cubase version since October 16, 2019, are eligible for a free, downloadable Grace Period update to Cubase 10.5.
Grace period info
Give your feedback
Please help us to develop the best Cubase for our customers by letting us know how satisfied you are with our latest release.
Go to the survey
What was new in Cubase 10
VariAudio 3
Ultimate control of your audio, with more creative tools and Smart Controls to speed up workflow.
MixConsole Snapshots
Instantly recall different project mixes and settings to quickly compare mixes and add mix notes.
Audio Alignment
Stack and match recordings quickly, easily synchronizing them to a reference track.
New Channel Strip
Channel strip overhaul offers better metering and functionality.
32-bit integer and 64-bit audio
The Cubase audio engine delivers ultimate, no-compromise quality.
Easy side-chaining
Quickly and easily set up side-chaining to make space in mixes or create distinctive effects.
Groove Agent SE 5
Many improvements and a new user interface enhance the best drum production tool.
5 GB of high-quality sounds and loops
The included sound content is brought to you by six highly acclaimed producers.
AAF support
Exchange multimedia data with all the most commonly used applications.
Distroyer
Add everything from subtle analog warmth to searing heat for mixes and individual instruments.
Vintage Verbs for REVerence
Better management, smoother workflow and 20 new impulse responses bring REVerence greatness to your projects.
Latency Monitor
Know exactly where — and how much — latency is occurring, quickly and easily.
Full support for high-resolution displays
Enjoy high-definition quality under current macOS (limited support for Windows 10).
Effects in the Media Rack
Radical improvement of plug-ins workflow, with drag-and-drop functionality and improved display.
MPE support
Easy and convenient setup of MPE controllers.
Improved editing to picture
Enhanced tools for video soundtrack production.
Steinberg Virtual Reality
VR production suite adds a suite of professional yet intuitive virtual reality audio production tools.
ARA support
Support for extended communications between ARA plug-ins and Cubase.
Even more
Experience a wide range of usability, performance and quality improvements.