A brand-new Cubasis
Cubasis 3 was rewritten from the ground up, carefully keeping its identity and winning formula, but at the same time introducing the latest technology in keeping with today's and tomorrow's demands. Enjoy a brand-new app, iPhone compatibility, many user-requested features, unrivaled usability and operation paired with the best performance and so much more. Please welcome Cubasis 3, the next-generation mobile music creation app for iPhone and iPad. It's the best Cubasis we've ever made...
Universal app support (iPad & iPhone)
Never miss a moment when inspiration strikes. Start to create a song on the device you have always with you, your iPhone, then feel free to continue on the iPad. Enjoy the fast operation and ease of use that using Cubasis on either device delivers.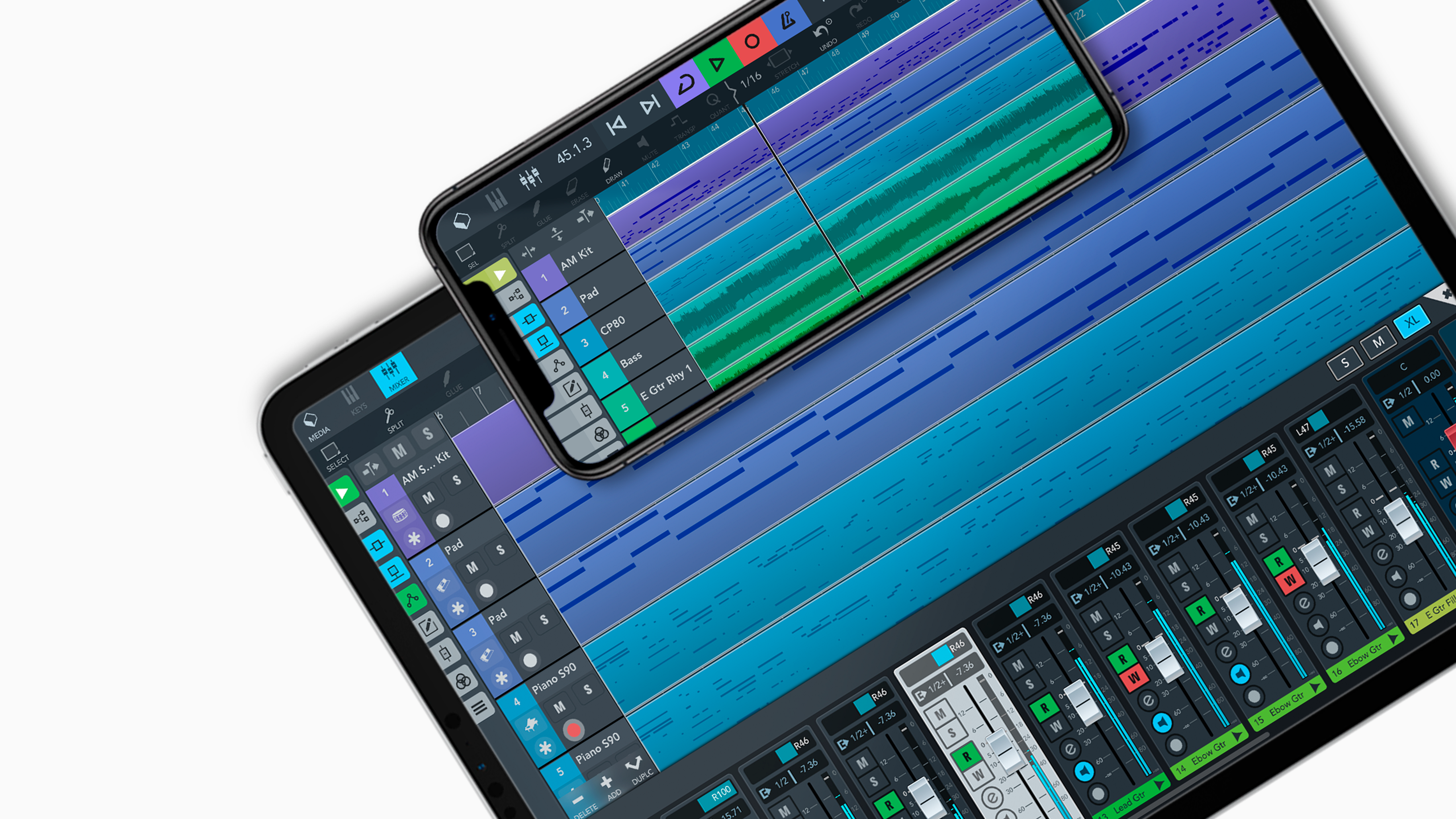 A fully equipped DAW on your iPhone
The all-new Cubasis 3 for iPhone continues to set new benchmarks in comfortable operation, making the app's extensive feature set easy to navigate on a smaller screen, supporting you with what's most important — creating great music quickly.
Group tracks
You have a lot of separate tracks and want them to act as one? Enjoy the freedom to quickly combine individual tracks, grouping them in the Cubasis track list or mixer. Process, edit and mix them as though they were a single track. It's all done with a few taps — quickly and easily.
Full-screen mixer, zoom modes and level metering
Enjoy the clearest user interface when creating mixes in Cubasis. Easily extend the width and height of the mixer's channel strips, up to full-screen size, via simple button taps or touch gestures. And, thanks to accurate level metering, you will create the best mixes every time.
Up to eight rearrangeable insert and send effects
Polish your tracks to perfection with up to eight insert and eight send effects with Audio Unit, Inter-App Audio or the internal effects plug-ins. Plus simply rearrange effects via tap and move, and change pre/post fader positions of insert plug-ins.
Universal app support
Create your songs with Cubasis on iPhone and iPad.
Cubasis 3 for iPhone
A fully equipped DAW, quick and easy to navigate, on your iPhone.
Group tracks
Process, edit and mix tracks as though they were a single track.
Full-screen mixer, zoom modes and level metering
Easily extend the mixer up to full-screen size and more.
New look, same feel
Creating mobile music is easier, faster, more efficient and enjoyable.
Free Cubasis 2 in-app purchase transfer
Freely transfer previous in-app purchases from Cubasis 2 to Cubasis 3.
960 pulses per quarter note
Enjoy MIDI editing with the finest level of detail and precision.
Up to eight rearrangeable insert and send effects
Use up to eight rearrangeable effects and change pre/post fader positions.
75 new effect presets
Make new tracks sound great, with an inspiring selection of ready-to-use presets.
Undo reinvented with History List
Comfortably jump back and forth between earlier versions of your project.
Redesigned instruments and effects
Enjoy improved user interfaces for more precise operation.
Updated audio, MIDI and automation editors
File editing is quicker and more efficient.
Improved MediaBay
Create folders, move files, share your music and more with ease.
UI scale presets for iPhone and iPad
Quickly change the size and arrangement of the Cubasis user interface.
Overdub and Looper recording modes
Choose the perfect mode for your recording task.
MicroSonic instruments refill
Get creative with this great library of expressive instruments.
Vertical event coloring
Easily keep track of the individual parts of your arrangement.
AU MIDI effects automation
The controls and switches of your AU MIDI plug-ins can move automatically.
Micrologue ARP (IAP) automation
Get more creative with the Micrologue ARP, now supporting automation.
Don't stop the music
Enjoy continuing playback while performing undo, redo and more
Improvements
Enjoy the best performance, speedy operation and rock-solid stability.