Fix more in post — and restore out of thin air
Expand the possibilities of post and restoration with the world's first spectral editing platform. Utilize innovative technologies: a responsive spectrogram, real-time tools, access to external algorithms, integrated surround support, and workflow integration. Fix and restore more than you ever thought possible — faster and more intuitively.
Reveal more hidden sonic problems—and opportunities
Detail is critical with spectral editors — if you can't see it, you can't fix it. SpectraLayers has the world's most advanced spectrogram, based on exclusive features. Even at the highest resolution, it's always real-time. Spectral Enhancement achieves unprecedented clarity. Real-time adjustment of 20 parameters lets you reveal the exact sonic events of interest. And all editing occurs at this higher level of fidelity, offering greater precision and sonic clarity than any other spectral tool.
Pro • Elements
Edit surgically and intuitively with 25 real-time tools.
Visually retouch audio with nine familiar image editing tools like Eraser, Clone Stamp, Pencil, Amplify (Dodge), Spray (Brush) and Eye Dropper. An unmatched choice of nine selection tools, plus seven audio-specific tools like Frequency Repair. All are real-time, with amplitude previews as you hover the pointer. Customize them with a wealth of parameters such as brush size, shape, crossfade (amplitude and frequency) and gain. Even use a stylus or multi-touch display.
Audio Editors: Assemble
One program. One project file. One undo history. Put SpectraLayers at the center of your post workflow and integrate the capabilities of your other audio tools — such as WaveLab, iZotope RX® and Melodyne®. Automatically upgrade their abilities via full compatibility with our Advanced Selection System — with pixel-definable selection shapes and fully visualized Audio Crossfade Masks.
Pro • Elements
Standard post-production algorithms and unique tools
All the standard post algorithms you rely on are built in to SpectraLayers, including spectral noise reduction, reverb removal, and audio healing. It also features unique tools, such the Frequency Repair Tool and the Transient Selector.
Pro • Elements
12 re-mappable surround channels
SpectraLayers was designed from the ground-up for surround. While retouching, select a single channel and have the results painted to other channels. With Visual Mix Editing, instantly see how higher-order formats collapse to lower-order formats — without down-mixing. Cut, copy and paste spectral selections directly between channels, with full support for 2D audio fades. And in your ARA DAW, automatically open regions with different surround formats in the same editor window, in separate tabs, with full access to each other.
Pro • Elements
Enhance your existing workflow
As a professional, you've already created your ideal workflow. So each implementation of SpectraLayers is designed with the technology and flexibility to integrate with it—not add new steps. SpectraLayers upgrades the tools you already have, whether you're DAW-based or prefer a stand-alone application. And with External Editor Integration™ you can have the best of both worlds, adding the power of your stand-alone editors to your DAW.
Pro • Elements
Clean even the most stubborn audio stains
SpectraLayers significantly expands what kinds of materials can be edited in recordings and the clarity of the results. One reason is the remarkable possibilities uniquely afforded by Audio Retouching. The other is a substantial improvement to the two editing methods common to other spectral audio tools: transformations and selection-based effects.
Pro • Elements
All is not lost
In addition to the industry's standard restoration algorithms (and access to the ones from your other audio editors), SpectraLayers introduces three real-time tools. Frequency Repair connects broken sinusoids, over short intervals, without audio artefacts. The Transient Selector intelligently selects frequency-specific transient regions, making manual transient editing faster and more reliable. And the Amplifier tool brings out attenuated harmonics, with precision control.
Pro • Elements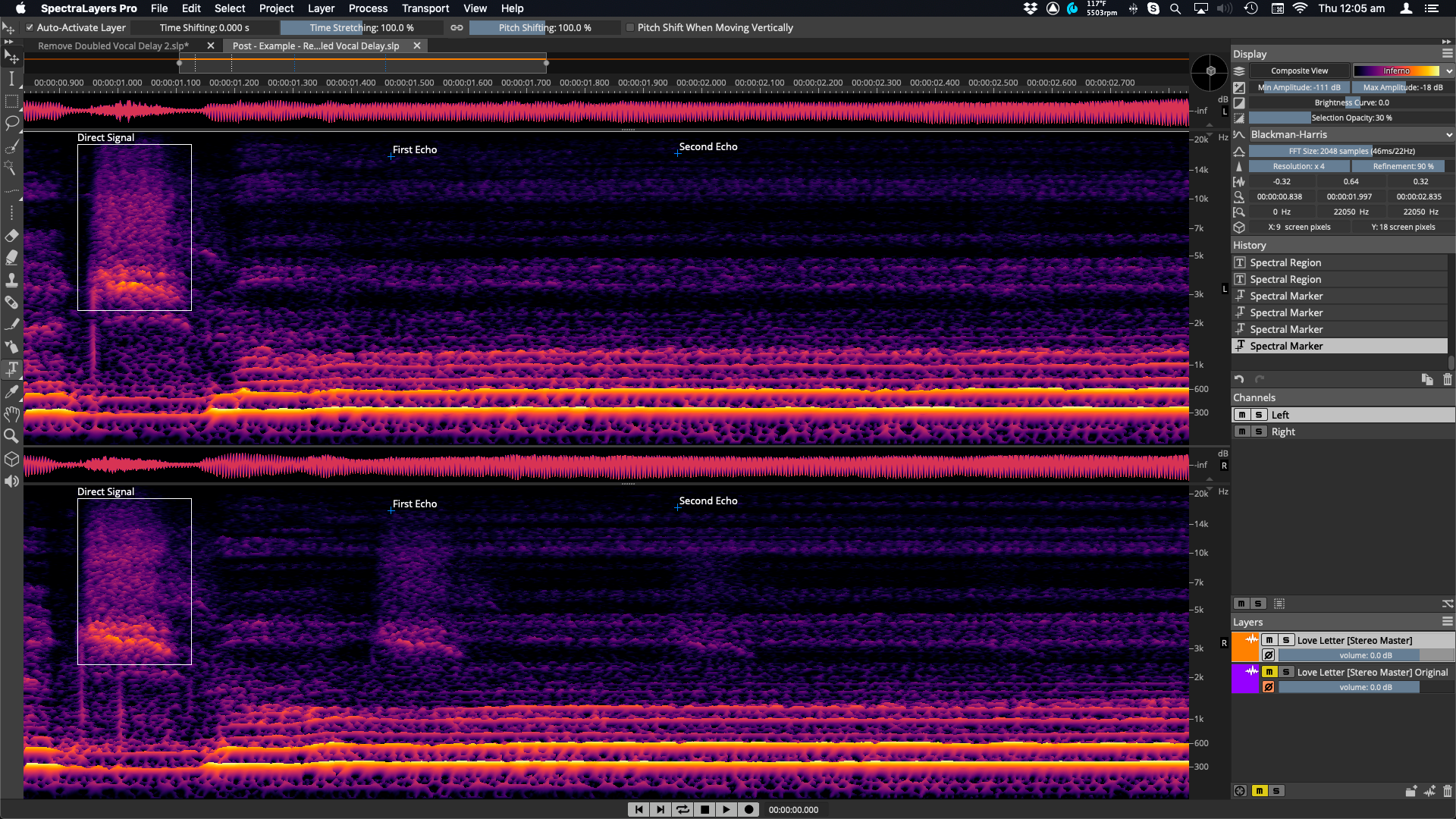 'We apologize for the delay': Removing echo on a vocal in a full mix
With the power of Audio Retouching, specific elements of sounds can sometimes be seamlessly removed — even from a full mix. For example, individual echoes on a vocal can be visually identified in a song and then painted out with the Eraser tool.
Pro • Elements