The Absolute Collection – The best virtual instruments for your music production
Get tons of creative instruments with over 100 GB of sound content for every kind of music production. Explore over 6,800 presets, next-generation synthesizers and one of the best drum plug-ins available. And when that is not enough, you can easily build your own sample instruments.
Next-generation sample and synthesis workstation — HALion 6
A wide array of granular, wavetable and virtual analog synthesizers
First-class acoustic sample libraries for orchestra, strings and pianos
The best drums, percussion and beats with Groove Agent
What's new in Absolute 4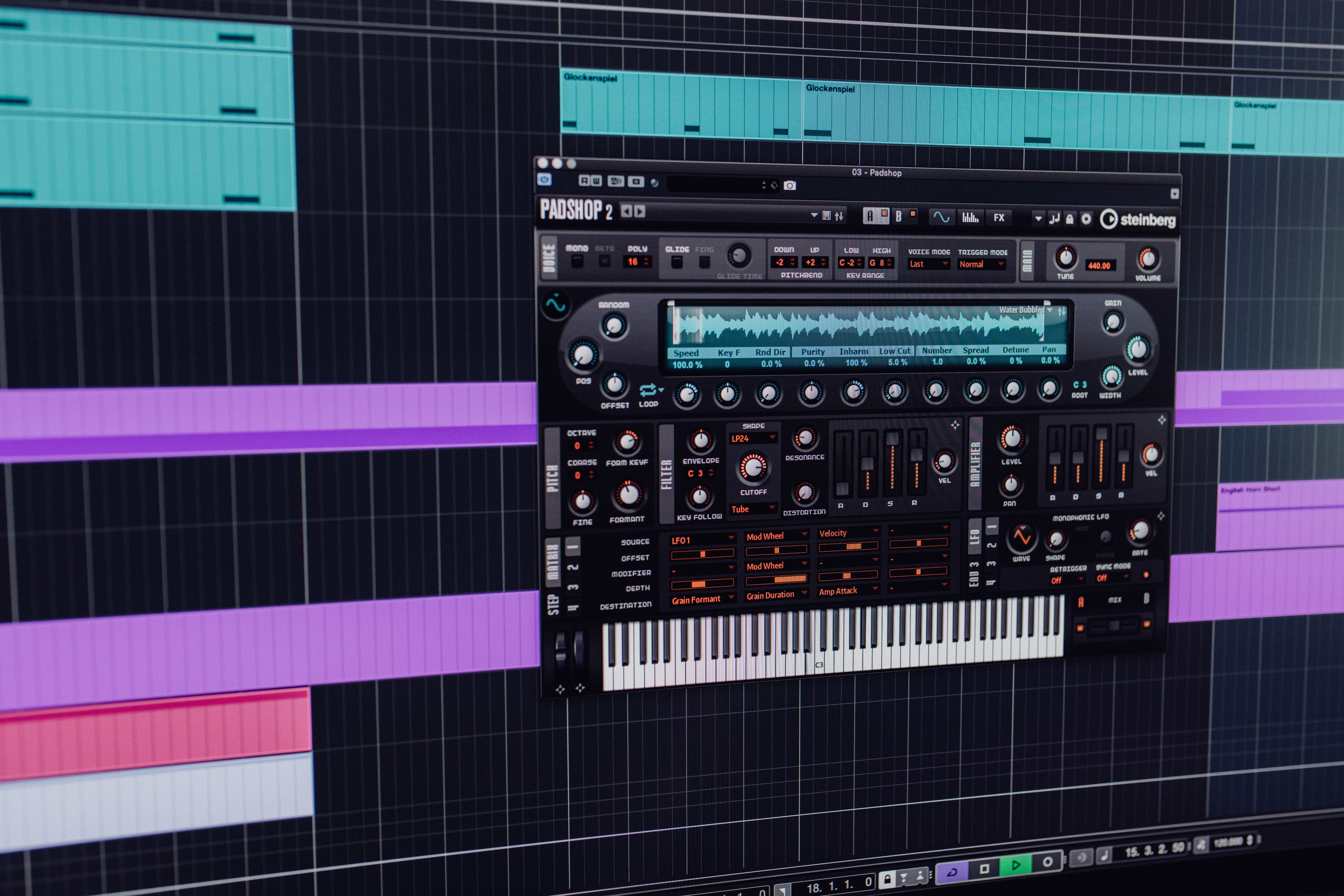 Padshop 2
Featuring granular and spectral synth engines that both let you work with samples at a microcosmic level, Padshop 2 lets you create completely new, previously unheard sounds.
Which instruments are you interested in?
Sampler & workstation
A remarkably powerful sampling and sound design tool, HALion 6 is the main plug-in for many of the
HALion Sonic 3 features thousands of great synths, deep-sampled acoustic instruments and
Synthesizer and electronic music
With classic vintage analog synth sounds and attention-grabbing sonic bites, Retrologue 2 is
Padshop 2 is a unique synthesizer which features two engines - granular and spectral - that both
Soaring through space like a bright star, Skylab's unique combination of a huge sample library and
Anima features a huge palette of cutting-edge synth sounds. Coupled with a powerful arpeggiator
Many of the most famous analog synthesizers from the past inspired Voltage. Adding the sonic range
Auron will inspire you to create unique new soundscapes, but also provides 160 granular synthesis
For great club sounds with soaring synths, hypnotic beats and classic vocals, Triebwerk is the
Brass
A multi-sampled brass library with gloriously fat, tight and authentic sounds which are perfect
Organ
Variously described as smoky, punchy and silky, the Model C is a tonewheel organ emulation which
Pianos
The Eagle grand piano has a rich and transparent sound which is ideally suited to modern pop, rock
Five meticulously sampled, outstanding pianos from Yamaha, Steinway and Bösendorfer, bringing
The Raven is a grand piano that delivers a beautifully rich, harmonic sound with stunning nuances
Drums & percussion
With fantastic electronic and acoustic drum kits, brilliant MIDI grooves, live sampling, beat
Created by British producer Beat Butcha, Prime Cuts brings the latest hip hop rhythm sounds to
There is nothing quite like a hard-hitting rock beat to drive a song along. Rock Essentials brings
From Africa to Asia, Europe and many other places, World Percussion allows you to play and record
B-Box is a step sequencer for beats and drum tracks. It features 13 instruments and 16 steps, each
Cinematic instruments
World Instruments brings a huge array of music from different cultures to your productions. These
The perfect creative tool for cinematic scores and music with genuine suspense, Dark Planet
Combining great playability with vibrant sound, Studio Strings is a string ensemble sample library
If you ever need a complete symphony orchestra at your fingertips, HALion Symphonic Orchestra is
Choir
This lightweight, user-friendly choir instrument is the perfect tool for composers who need a
Absolute 4 system requirements
Get inspired with VST Instruments
How to create a haunting Halloween theme

Behind the Scenes of a Demo Track for Iconica Opus

Building A Neo-Soul Groove with Vibrant

Writing a 1980s-style horror movie trailer

Grace Period Update
Customers who have activated Absolute 3 since November 1, 2018, are eligible for a free, downloadable Grace Period update to Absolute 4.
Grace Period Info